OUR PEOPLE
Rasoul Salehi, General Manager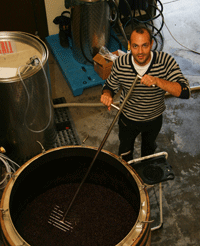 Rasoul began his career in the wine industry as soon as he turned legal (a the age of 19) and has quickly accumulated a vast knowledge and understanding of wine and wine industry. In his quest to acquire more knowledge, he has visited hundreds of vineyards and wineries around the world, and continually takes annual pilgrimages to various regions such as Napa Valley, Sonoma County and Dundee Hills in addition to the Okanagan Valley. He wishes to return to Piedmont's Langhe on more frequent basis.
His education encompasses a Bachelor in Communications from Simon Fraser University which he completed with honours, along with an Advanced degree from WSET. He is a recipient of a scholarship to become "Certified Spanish Wine educator" a program offered through the "Society of Wine Educators". Rasoul's working background includes teaching wine education seminars for corporate and food and wine events, as well as writing wine lists for top international and national hotels. As a passionate wine collector Rasoul now has a collection of over 1200 bottles.
Severine Pinte, Viticulturalist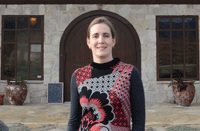 Severine Pinte came to Le Vieux Pin at the beginning of August, 2010 with 14 harvests of international wine making experience under her belt along with 8 years of vineyard management. A graduate from the illustrious ENSAM (Ecole National Superior Agronomic of Montpellier) she acquired her Masters in viticulture and oenology, and also obtained her National Diploma of Oenology. She then apprenticed in the AOC Gaillac at the Cave de Tecou before coming for the first time to British Columbia to work for Domaine de Chaberton as an assistant winemaker. In 1999 she returned to her native France and worked a year in Bordeaux under the direction of Andre Lurton in Pessac-Leognan before returning south to the Languedoc. For the following 9 years Severine was head winemaker and viticultural council for "Le Vignoble des 2 terres" in the Terrasse du Larzac terroir, with a brief sabbatical in the winter of 2003 when she took leave to harvest in the southern hemisphere. At Frankland Estate winery in Western Australia, she enjoyed learning a different take on her beloved syrah and viognier, but also had the chance to be exposed to some other varietals.
Simultaneous to her winemaking Severine has led a tasting club in France as well as sitting on countless tasting panels for competitions and revues. Her passion for wine has benefited the Guide Hachette and Vinalies, where she has been solicited as a trained taster every year since 2001.
Curiosity and the pursuit of new challenge brought Severine to the Okanagan and she brought with her an astute understanding of wine and terroir. Her favorite quote is from Jean Hugel, that "100% of the quality of a true wine is already in the grapes, not in the cellars where you can only lose quality", because it sums up the important role of viticulture in the crafting of great wine. For her, the Okanagan, with its unique terroir and cool climate has always been intriguing. "I look forward to seeing and tasting the influence of the terroir and the spectacular day to night temperature variations on some of my more familiar varieties.
Jody Subotin, Vineyard Manager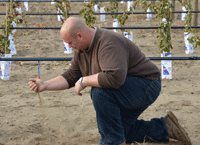 Jody started working in the Vineyards in 1996 during his summer breaks from school. As soon as he graduated he went straight to work on the farms. Jody's career began at Hawthorn Mountain Vineyards in 1997 as a labourer/tractor operator. From 1999 to 2000 he was promoted as the Vineyard manager. In 2000 he moved to Osoyoos Larose and started as a tractor operator. By 2002 he was the Assistant Vineyard Manager. This is where he acquired the bulk of his grape growing know how. Under the consultation of Alain Sutre of Ertus consulting, he learned very specific and precise ways of training and nurturing grape vines. After Larose he went into installation of vineyards from the ground up. Clearing the land, installing irrigation, posts, wires, planting etc. He was in charge of a crew that put in a 60 acre vineyard in Cawston and 280 acres at Covert Farms. After that he moved to Grand Forks where he installed a 16 acre vineyard in Fruitvale. At this location he practiced Bio-Dynamics which puts a very interesting twist on farming. Jody is very excited to be a part of this team and know that we will take Enotecca to the next level.