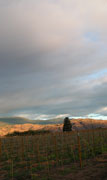 VINEYARD MANAGEMENT PHILOSOPHY
Our vineyard strategy is a mixture of Old and New world. History has proven that the best wines ultimately come from the best vineyard sites. This is "Terrior". More and more, new sites are being developed on these newly discovered grapes growing gold mines all over the world. Fortunately, the Okanagan Valley happens to be one of the best wine region with its unique climate and variety of soils. This is becoming well known internationally. Low rainfall and high heat units in a dry environment, allows us to farm in a sustainable manner with all the respect the land deserves.

Our focus is to make wine representative of its terroir. Low input viticulture is the method used to get there. Dry farming, minimal fertilizer addition, high density plantings (6feet x 3feet) and low yield will allow vines to show us who they really are deep down to the roots. Qualified personnel, a plant by plant approach and serious everyday monitoring are the pillars to a solid knowledge of each site and confidence decision taking. We also use the best equipment and new technology available to us in the vineyard.

Our last weapon to achieve the ultimate goal, is a full communication between everybody involved with Enotecca. Passion, friendship, dedication and commitment is a sure recipe for success.